Publication date: 10 March 15
From #1 New York Times bestselling author Colleen Hoover, a new novel about risking everything for love—and finding your heart somewhere between the truth and lies.
Auburn Reed has her entire life mapped out. Her goals are in sight and there's no room for mistakes. But when she walks into a Dallas art studio in search of a job, she doesn't expect to find a deep attraction to the enigmatic artist who works there, Owen Gentry.
For once, Auburn takes a risk and puts her heart in control, only to discover Owen is keeping major secrets from coming out. The magnitude of his past threatens to destroy everything important to Auburn, and the only way to get her life back on track is to cut Owen out of it.
The last thing Owen wants is to lose Auburn, but he can't seem to convince her that truth is sometimes as subjective as art. All he would have to do to save their relationship is confess. But in this case, the confession could be much more destructive than the actual sin…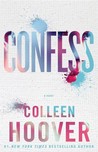 Confess by Colleen Hoover
Trish's rating: 5 of 5 stars
5 COMPELLING STARS
Wow – what brought me to read this … the dedication.
The confessions you read within this novel are true confessions, submitted anonymously by readers. This book is dedicated to all of you who found the courage to share them.
I love the fact that every Colleen Hoover book I have read are all so different. She has a magnitude of talent and can relate a story in any direction.
This one in particular, written on the basis of real confessions. Just brilliant and so intriguing.
So many confessions throughout this story that will leave you wondering, pondering who they really belong to. Some will leave you with goose bumps running through your whole body.
Ms Hoover, ever the skillful writer brought these to the reader in a fabulously rounded story which made everything feel so real. It will grip you from the start and make you laugh and cry in so many places.
The connection between Owen and Auburn was perfect. The writing is flawless.
I loved how this story brought everything full circle. Full of secrets leaving you hanging in anticipation which Ms Hoover does so well – always bringing you and ending which you can admire.
It was a stunning story. It felt so real even though the characters had their own flaws.
A totally absorbing story of two gorgeous people with so many obstacles to overcome fighting for the one they love.
Thank you to Simon & Schuster Australia for providing me the opportunity to read and review this book.
View all my reviews