Sweet Filthy Boy
Synopsis
One-night stands are supposed to be with someone convenient, or wickedly persuasive, or regrettable. They aren't supposed to be with someone like him.

But after a crazy Vegas weekend celebrating her college graduation—and terrified of the future path she knows is a cop-out—Mia Holland makes the wildest decision of her life: follow Ansel Guillaume—her sweet, filthy fling—to France for the summer and just…play.

When feelings begin to develop behind the provocative roles they take on, and their temporary masquerade adventures begin to feel real, Mia will have to decide if she belongs in the life she left because it was all wrong, or in the strange new one that seems worlds away
Dirty Rowdy Thing Synopsis
From the New York Times best-selling author of Beautiful Bastard, Beautiful Stranger, and Beautiful Player, Book Two of the brand-new Wild Seasons series that started with Sweet Filthy Boy - a story of friends, love, and lust.

Despite their rowdy hookups, Harlow and Finn don't even like each other... which would explain why their marriage lasted only 12 hours. He needs to be in charge and takes whatever he wants. She lives by the Want-something-done? Do-it-yourself mantra. Maybe she's too similar to the rugged fisherman - or just what he needs.

What happens in Vegas, stays in Vegas.
But what didn't happen in Vegas seems to follow them everywhere.

Lola and Oliver like to congratulate themselves on having the good sense to not consummate their drunken Las Vegas wedding. If they'd doubled-down on that mistake, their Just Friends situation might not be half as great as it is now.

... Or so goes the official line.

In reality, Lola's wanted Oliver since day one—and over time has only fallen harder for his sexy Aussie accent and easygoing ability to take her as she comes. More at home in her studio than in baring herself to people, Lola's instinctive comfort around Oliver nearly seems too good to be true. So why ruin a good thing?

Even as geek girls fawn over him, Oliver can't get his mind off what he didn't do with Lola when he had the chance. He knows what he wants with her now ... and it's far outside the friend zone. When Lola's graphic novel starts getting national acclaim—and is then fast-tracked for a major motion picture—Oliver steps up to be there for her whenever she needs him. After all, she's not the kind of girl who likes all that attention, but maybe she's the kind who'll eventually like him.

Sometimes seeing what's right in front of us takes a great leap of faith. And sometimes a dark wild night in Vegas isn't just the end of a day, but the beginning of a bright new life...
Sweet Filthy Boy
by
Christina Lauren
Trish's rating:
4 of 5 stars
4 SWEET FILTHY FRENCH STARS
As the Synopsis says – Mia has to decide what is right for her…
This story takes you on Mia's journey. Told in her POV, she is looking for her place in life.
Mia is shy and beautiful, your regular girl next door. She has great friends. A new college graduate, she has a normal life, with your every day issues which stem from a major accident she was involved in. She seems to be constantly dealing with some sort of anxiety like body image, suffering from stuttering, guilt, panic and fear of her future. She also has to deal with an annoyingly stern father.
All she wants is to live life for herself – not anyone else. She doesn't want to live under her father's rules or decisions, but finds it difficult to make the break from him as she still depends on him. Making that break from her father is a constant nagging issue for her. He comes across as forever putting pressure on her to take a different direction in life which leaves her feeling a lot of anxiety about her future.
(Until she meets Ansel – will he change her world?)
Graduating College, her last hurrah with her friends is spent in Vegas.
After a drunken night in Vegas she ends up married to Ansel. Her Sweet, Filthy French Boy. But doesn't remember much other than the flashbacks she has and the letter she wrote to herself. And that feeling that she has, that for some reason, she can depend on him and trust him – but doesn't understand why?
"I want to love all of my life as much as I love this night."
Ansel seems so sincere and honest with her and she feels his honesty, but can't believe they are married.
She feels instantly drawn to Ansel when they meet, the connection for her is a little unbelievable – as she has never been so open and honest with anyone but her girlfriends. From the moment she sees Ansel across the bar – she is drawn to him.
"It's too good," he says against my lips. "It's so good, Cerise."
Ansel is so into Mia. The way he talks to her, gets to know her, and treats her. Mia is so caught up in how Ansel considers her. Throughout the story; she takes little time getting to really know him until very late into the book. I would have liked to have learned more about Ansel throughout this whole book. But OMG the sex is hot. Ansel devours her every possible way he can. Leaving Mia always wanting more. Needing more.
He is definitely sexy, funny, sweet, impulsive, charming, filthy and French – need I say more. He also harbors some secrets which adds a twist to the storyline which, honestly, I did not see coming. And I hated him for keeping the secret from Mia.
So….. Mia is faced with a major decision she needs to make. Annul the marriage and go home and prepare for Business School (much to her father's pleasure and her distress), or go with Ansel to France and spend the summer in Paris and play with him. I know what I would have chosen….
What will she choose? What decisions and difficulties will she be faced with? Will it all work out in the end?
"I'm lost in you."
I gasp, nodding frantically.
"Me, too."
"What you feel, Cerise? I feel it, too. Fuck, Mia, I feel everything for you."
Hopefully not giving too much away - I liked and enjoyed the story. It was a quick, fun read, with lots of hot melting sex, humor, awkwardness, great supporting characters and the sex and role play scenes were sizzling.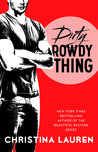 Dirty Rowdy Thing
by
Christina Lauren
Trish's rating:
4 of 5 stars
4 Wild Stars
What a wild ride Harlow and Finn's story is.
Dirty Rowdy Thing – it surely is.
Harlow and Finn are made for each other. They give as good as they get.
Finn – Oh My Lord…. He is so delicious.
Harlow – she has got it going on.
Their chemistry really sizzles. And their age gap is definitely no barrier between them. I loved the fact that they just can't resist one another. The sex is wild, sexy and kinky.
They have a secret they don't want their friends to know about – but how long can they keep the secret?
These two characters are really full on when they get it together – especially when their no-strings-attached relationship line becomes blurred when they realize their feelings for one another – which gives us a more intimate and intense look into both Harlow and Finn.
I love Christina Lauren stories. They are always full of sexy, steamy drama and fun. I love their fun, witty writing style. Their character development is perfect and the banter, flirting and bickering is fabulous. The dynamics of these characters feel so real. They are so engaging and entertaining.
Recommended read.
Thank you to Simon & Schuster Australia for providing an advanced reading copy
Dark Wild Night
by
Christina Lauren
Trish's rating:
4 of 5 stars
4 Romantic Stars
Christina Lauren never disappoint. Their stories are always fun, witting and entertaining.
This was a sexy, addictive story about two friends becoming more than just friends.
Oliver – romantic, sexy, sweet, considerate and loving.
Lola – totally adorable and geeky herself consumed with her busy life.
How could any two characters be more perfect for each other?
I loved reading Oliver and Lola's story. The sensible ones of the group. The nerds/geeks – taking the "right" path. So different to the other characters from book one and two. That's what I loved about it – the diversity, the unnecessary drama of these characters and their sensual chemistry which was always on fire in a quiet way. I loved watching them come into their own.
Recommended read.
Thank you to Simon & Schuster Australia for providing copies for review.
View all my reviews