Title: Sustained (The Legal Briefs #2)
Publication Date: 25 August 2015
This book can be read as a standalone.
A knight in tarnished armor is still a knight.
When you're a defense attorney in Washington, DC, you see firsthand how hard life can be, and that sometimes the only way to survive is to be harder. I, Jake Becker, have a reputation for being cold, callous, and intimidating—and that suits me just fine. In fact, it's necessary when I'm breaking down a witness on the stand.
Complications don't work for me—I'm a "need-to-know" type of man. If you're my client, tell me the basic facts. If you're my date, stick to what will turn you on. I'm not a therapist or Prince Charming—and I don't pretend to be.
Then Chelsea McQuaid and her six orphaned nieces and nephews came along and complicated the ever-loving hell out of my life. Now I'm going to Mommy & Me classes, One Direction concerts, the emergency room, and arguing cases in the principal's office.
Chelsea's too sweet, too innocent, and too gorgeous for her own good. She tries to be tough, but she's not. She needs someone to help her, defend her…and the kids.
And that — that, I know how to do.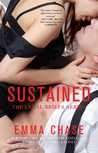 Sustained by Emma Chase
Trish's rating: 5 of 5 stars
5 romantic and entertainingly funny stars
I absolutely loved this book. It was full of everything. It was sexy, steamy, dramatic, romantic, chaotic and so funny.
The first Emma Chase book I've read and I can't get enough of it. I know this is book two in the Legal Briefs series, and I read it as a standalone. But I have to say, I need to get book one ASAP.
Ms. Chase brought everything I love to read into this story. Her writing style is just fantastic and so easy to connect to.
I loved that we get this story from our hero's POV. And let me just say Jake Becker is a total bad boy who you can't help but love. His life is full of order and control and he likes it uncomplicated.
Chelsea is a smart, gorgeous heroine who is trying to cope with her six nieces and nephews who she has recently become the guardian to. Her life now is full of drama, chaos and children.
When Chelsea and Jake's worlds collide, you just can't get enough. The attraction they feel for each other is super-hot – but the challenges they face make it all so much more fun.
I loved watching this story evolve and Chelsea and Jake's lives weave together and the changes they make for one another.
And the children. I loved them. They were priceless.
Such a fun read.
Highly recommended.
Thank you to Simon & Schuster Australia for providing an advanced reading copy.
View all my reviews